If you love shrimp and need a low-carb option, these 20 Keto Shrimp Recipes are going to blow your mind. There's everything from spicy to sweet–and everything in between.
Shrimp contains almost no carbs, making it a great protein to include on a Keto diet. Shrimp can be seasoned and used in a variety of recipes, making it a versatile cooking ingredient which tastes great hot or cold.
In this collection of 20 shrimp recipes you'll find Keto-friendly meals such as shrimp scampi, chowder, cold salads that are great for meal prep, spicy gazpacho, and even shrimp egg foo young.
You'll find delectable Keto-based creamy and rich sauces that play host to shrimp as well as highly-seasoned rubs and marinades.
You'll find various ways to cook shrimp, such as grilling, sautéing, frying and baking.
Keto Shrimp Recipes
While it's always wonderful to use fresh shrimp, there are recipes that work just as well with frozen shrimp. These awesome shellfish recipes are great way to get inspired to include shrimp in your Keto meal planning.
Shrimp & Chicken Curry
This spicy dish is everything you ever dreamed of in a curry. It's light and creamy, but with that distinctly curry bite. I love the pairing of chicken and shrimp, with that little touch of sauce that just is so unique.
Low Carb Shrimp & Chicken Curry by Keto Diet Meal Ideas
Shrimp Scampi with Zucchini Noodles
The beautiful colors of green and orange make this recipe a visual delight as well as a nutritious and savory one. Easy-to-make shrimp scampi sits on top of zucchini noodles for a delightful Keto feast of seafood seasoned with garlic, butter, lemon, and Parmesan cheese. Bon appétit!
Healthy Shrimp Scampi With Zucchini Noodles by Well Plated
Thai Shrimp Lettuce Wraps
Spice things up for dinner with a marinade of peanut, lime and fish sauce that will give this shrimp dish its Thai flavor profile. After a quick sauté, the shrimp is ready to go into a Bibb lettuce leaf. So pretty and so Keto!
Thai Shrimp Lettuce Wraps by Wholesome Yum
Steak and Shrimp Surf and Turf
Is there a better pairing than a jumbo garlicky shrimp sitting on top of a delectable petite filet mignon? I don't think so! This duo is an awesome way to enjoy a highly seasoned protein meal that's completely Keto. Butter, garlic, steak and shrimp? Heaven.
Steak And Shrimp Surf And Turf by Low Carb Maven
Shrimp and Bacon Chowder
When cooler weather rolls around, make yourself a batch of this low carb shrimp chowder. Heavy cream and bacon add creaminess and richness to this meal making this a perfect fall and winter soup for your Keto lifestyle.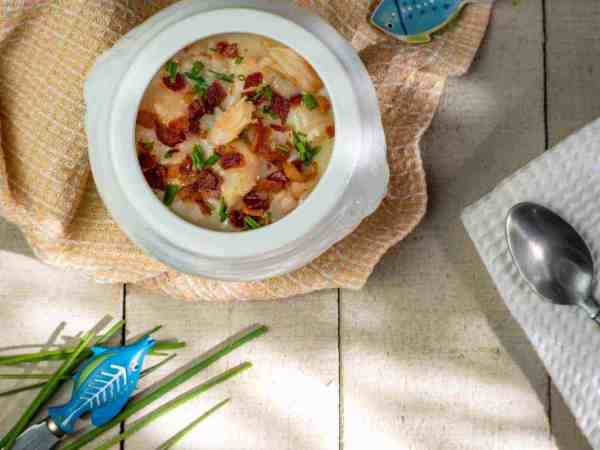 Keto Shrimp And Bacon Chowder by Better Than Bread Keto
Shrimp and Avocado Salad
You could easily meal prep this dish by grilling a batch of shrimp to toss on your salads. Here, the grilled, spicy shrimp adds protein to this spinach and mixed greens base accompanied with tomatoes, avocados, pecans and almonds. Beautiful, healthy, and Keto.
Shrimp And Avocado Salad by Life Made Sweeter
Shrimp Egg Foo Young
Forget take-out! Make this restaurant favorite at home. This recipe will walk you through how to make a low-carb version of this Chinese-inspired dish, complete with a Keto "gravy" for authenticity. Eggs, shrimp, cauliflower rice and an assortment of your favorite veggies will make this a family favorite meal.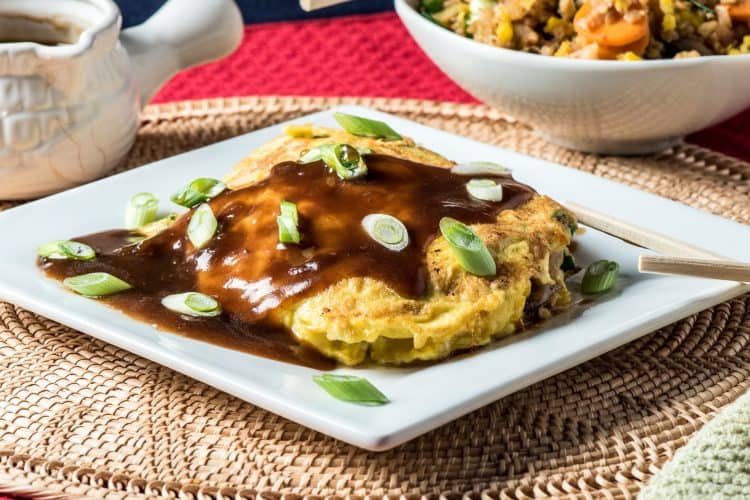 Shrimp Egg Foo Young by Tasty Low Carb
Mexican Shrimp Gazpacho
For a vibrant burst of flavor and spiciness, you'll want to make this Mexican-inspired shrimp gazpacho that's perfect for spring and summer. Tomatoes, cucumbers, bell peppers, jalapeños, onions, and garlic all combine for a spicy Keto chilled soup topped with seasoned grilled shrimp. Amazing taste!
Summer Mexican Low Carb Shrimp Gazpacho by Keto Diet App
Shrimp Ramen Noodle Stir Fry
Low-carb ramen noodles get an upgrade with this shrimp and veggie stir-fry. Seasoned with ghee, soy sauce and garlic, this dish will quickly become a family favorite for busy weeknights.
Keto Shrimp Ramen Noodle Fry by Sugar Free Mom
Chili Lime Shrimp Fajita Bowls
Perfect for a bag of frozen shrimp, make these customizable and meal prep Keto shrimp bowls in just minutes. Serve with riced cauliflower, colorful bell peppers, avocado, or your favorite veggies.
Chili Lime Shrimp Fajita Bowls by Life Made Sweeter
Crispy Coconut Shrimp
This easy and delightful coconut shrimp recipe makes a great meal entree or even an appetizer. Dredge in coconut flour and unsweetened coconut flakes, fry for a few minutes and you've got a Keto-based shrimp meal that guaranteed to be a hit with the family or guests.
Crispy Low Carb Coconut Shrimp by Low Carb Yum
Creamy Garlic Parmesan Shrimp
Tails on or off of the shrimp is just about all you need to decide when making this simple but rich shrimp dish seasoned with garlic, cream and cheese. Serve over riced cauliflower for a delicious low-carb flavorful Keto meal.
Creamy Garlic Shrimp With Parmesan by Cafe Delites
Blackened Shrimp
Make this blackened shrimp in a skillet or load them onto skewers for a session on the grill. Either way, the bold and spicy blackened seasoning explodes the flavor making them perfect for Keto lettuce tacos or served with riced cauliflower or Zoodles.
Blackened Shrimp by Noshtastic
Shrimp Avocado Salad
This easy to make salad can use frozen or fresh shrimp. It's easy to make ahead of time and keep in the fridge, making it a great meal prep option. Sauté your shrimp and let them cool. Assemble your salad with tomatoes, avocado and feta cheese. Add the shrimp and enjoy immediately or park it in the fridge for later.
Shrimp Avocado Salad by Savory Tooth
Shrimp Fried Cauliflower Rice
This recipe keeps it Keto by substituting cauliflower for rice. Frozen peas, carrots, onions, garlic, shrimp and scrambled eggs get stir fried to delicious perfection in a wok, or skillet, for a quick nutritious Keto seafood meal.
Shrimp Fried Cauliflower Rice by Peace Love And Low Carb
Popcorn Shrimp
These gluten-free popcorn shrimp are super easy to make with just coconut flour and egg and a quick sauté in coconut oil. These fun little Keto-friendly shrimp bites are kid approved, too!
Popcorn Shrimp by Paleo Flourish
Creamy Tuscan Shrimp
Sun-dried tomatoes and spinach give a Tuscan twist to this creamy shrimp skillet meal that's ready in about 10 minutes! Keep it Keto and serve over Zoodles or even a pile of sauteed veggies. Delicioso!
Creamy Tuscan Shrimp by That Low Carb Life
Oven Fried Garlic Parmesan Shrimp
"Breaded" with a seasoned almond flour mixture, these fresh jumbo shrimp get coated and baked in the oven until crispy and golden. These make an easy Keto appetizer for entertaining and the holidays.
Oven Fried Garlic Parmesan Shrimp by Beauty And The Foodie
Creamy Asparagus and Shrimp Alfredo
This creamy Keto sauce plays host to fresh shrimp and asparagus in this quick 5-ingredient recipe. The decadent flavor will make this a go-to meal that's perfect for guests or when you want to treat your family to a luscious meal. Eat on its own or serve with zucchini noodles.
Keto Creamy Asparagus And Shrimp Alfredo by Health Starts In The Kitchen
Easy Shrimp Scampi
Easy, quick and delicious is the name of the game with this buttery shrimp. White wine, butter, garlic and lemon juice combine to make this awesome shrimp scampi. Serve over cooked spaghetti squash for a Keto-friendly seafood delight.
Easy Shrimp Scampi by I Breathe I'm Hungry
Cajun Shrimp Lettuce Wraps
Liven up your next shrimp meal with the addition of andouille sausage as a partner in this cajun-inspired meal. It you can handle the heat, this flavor-filled duo will fit nicely into a hand-held lettuce wrap for a perfectly Keto meal.
Andouille Sausage and Cajun Shrimp Lettuce Wrap by Taste And See
If you loved these Keto Shrimp recipes, be sure to pin this to your favorite keto recipes board on Pinterest so you can find them quick again!