If you've ever had trouble making a pork chop that's tender and moist, you'll want to keep this collection of 20 Keto pork chop recipes handy.
Because the Keto diet is high in healthy fats, these recipes are full of flavorful high-fat content which help keep the pork chops juicy and tender. No more dried-out meat with these recipes!
You'll find delectable pork chops that are smothered with creamy sauces and a variety of cheeses, as well as spicy chops that are seasoned with butter, onions, garlic and and array of fresh herbs.
Cooking methods are variable, so there's guaranteed to be a method that suits your lifestyle and appliance collection. Whether it's skillet fried, oven-baked, grilled, pressure-cooked or even air-fried, there's a method here to fit your needs.
Keto Pork Chop Recipes
These mouth-watering pork chop recipes will be an awesome addition to your Keto diet rotation of healthy protein and high-fat meals. We've divided them into categories to make it easier to find the recipes you'll like best.
Smothered Pork Chops
If you're concerned about dry pork chops, you don't have to worry when you smother them in sauce! Check out these delicious smothered pork chop recipes.
Bacon and Mushroom Smothered Pork Chops
Smothered with a creamy bacon and mushroom sauce, these one-pan boneless pork chops come out tender and moist every time, thanks to the saucy mixture. Season with fresh thyme which can stand up to the high-fat ingredients of heavy cream and bacon. Have this meal on your table in under 30 minutes!
One-Pan Smothered Pork Chops With Bacon And Mushroom by Julia's Album
Jalapeno Popper Smothered Pork Chops
If spicy, cheesy and anything with bacon on it sounds like something you would devour, then you'll want to make these Keto jalepeno popper pork chops as soon as possible.
Topped with cream cheese, salsa verde, cheddar cheese, sliced jalapenos and bacon, these pork chops are grilled first, smothered second, and then put back on the grill just until the cheese gets melty. These chops will become a family favorite, guaranteed!
Jalepeno Popper Smothered Pork Chops Low Carb by I Breathe I'm Hungry
Instant Pot Smothered Pork Chops
Mushrooms, bacon and garlic are responsible for these seasoning these smothered pork chops. You can use heavy cream or even full-fat coconut milk for the creamy sauce. Your Instant Pot will do the rest!
Instant Pot Keto Smothered Pork Chops by Beauty And The Foodie
One-Pan French Onion Smothered Pork Chops
Onions and pork chops are a classic pairing and this one-pan recipe makes these a snap to make. Grab your skillet, onions, chops and spices and let's get cooking! Before you serve, top the chops with some provolone and grated Gruyere cheese for an indescribably tasty experience.
One Pan French Onion Smothered Pork Chops by The Chunky Chef
Instant Pot Sour Cream Pork Chops
Thanks to your pressure cooker, these pork chops will come out juicy and tender every time. The Keto-based sour cream sauce is deliciously seasoned and is perfect to drizzle on a side of mashed cauliflower. Awesome sauce, indeed!
Instant Pot Sour Cream Pork Chops by Wholesome Recipe Box
Stuffed Pork Chops
Rather than dousing dinner in flavor, why not flavor it from the inside out? These delicious stuffed pork chop recipes do exactly that!
Bacon and Gouda Stuffed Pork Chops
Move over cream cheese, there's a new player in town and his name is smoked gouda. Your pork chops get stuffed with the awesome flavor from a smokey gouda cheese as well as bacon. Make sure you get thick-cut boneless chops so you can really pile in this Keto goodness!
Stuffed Pork Chops with Bacon and Gouda by Jennifer Banz
Spinach and Provolone Stuffed Pork Chops
Spinach and provolone cheese are "stuffed" between two layers of thin-cut boneless pork chops to make this garlicky seasoned Keto extravaganza of flavor. Guaranteed to become on of your most requested recipes!
Stuffed Pork Chops by Joyfilled Eats
Seasoned Pork Chops
Prefer to keep things simple? Try one of these seasoned pork chop recipes.
Asian Garlic Pork Chops
These awesome lightly breaded chops are easily fried in a skillet for a quick weeknight dinner. The breading comes from a little almond flour, which keeps it Keto compliant. Japanese sake, soy sauce and garlic give these pork chops their Asian flavor. Garnish with sliced green onions and enjoy,
Keto Asian Garlic Pork Chops by Low Carbing Asian
Garlicky Butter Chive Parmesan Pork Chops
You probably have all the ingredients in your kitchen to make these simple but outrageously delicious garlic pork chops. Smaller, thin-cut boneless chops will work best here and will cook quickly. Grill the chops briefly then finish them off in the oven with a butter, chive, garlic and Parmesan cheese coating. Tasty!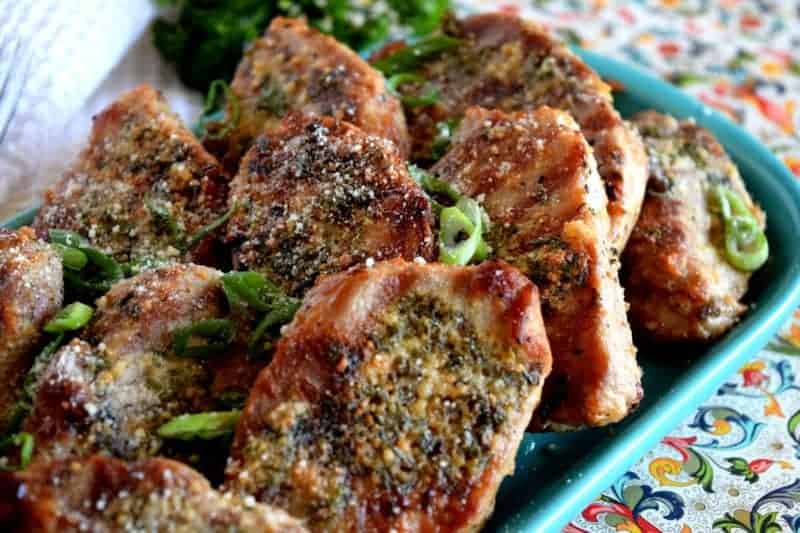 Garlicky Butter Chive Parmesan Pork Chops by Lord Byron's Kitchen
Garlic Baked Pork Chops
These highly flavored pork chops keep it Keto with a buttery garlic-infused sauce. Moist and tender, these chops are a garlic lover's dream. Grab a head of garlic and get ready to mince each and every clove for the ultimate garlic treat with these baked pork chops.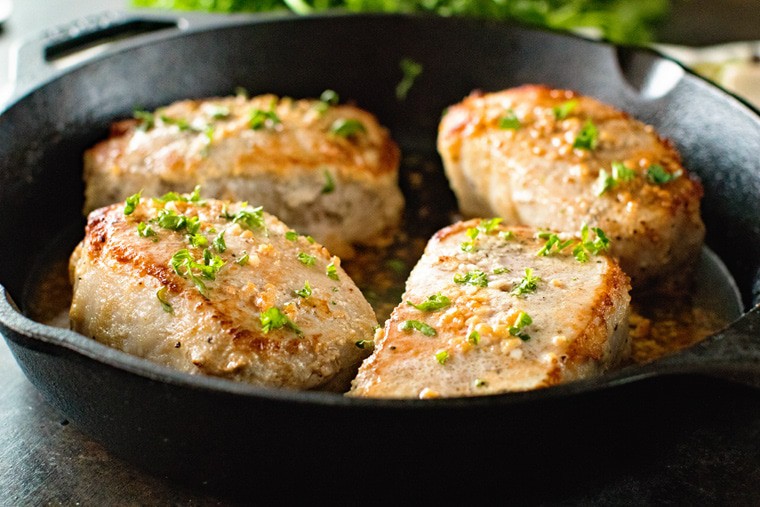 Garlic Baked Pork Chops by Julia's Eats And Treats
Instant Pot Buttery Ranch Boneless Pork Chops
Your pressure cooker will make quick work of these easy boneless chops. You could even skip the browning step if you want and go straight to the pressure cooking if you're in a hurry. This recipe is a keeper for a quick and awesome weeknight meal when time is short.
Instant Pot Boneless Pork Chops by Eating On A Dime
Butter and Herb Pork Chops
Butter keeps these boneless pork chops tender and moist as they bake in the oven. Highly seasoned with herbs, they're full of flavor and make a tasty Keto protein meal.
Tender Butter And Herb Baked Pork Chops by Delicious As It Looks
Easy Spiced Pork Chops
A quick marinating session of a little oil and Worcestershire sauce gives these boneless pork chops a zesty taste, perfect for serving along with a salad or fresh veggies. After a quick session on the grill they'll be ready to enjoy!
Easy Spiced Pork Chops by Step Away From The Carbs
Crusted Pork Chops
If you like a nice crispy coating on your pork chops, you're going to love these crusted pork chop recipes!
Pecan Crusted Pork Chops
These pork chops get a crispy coating of crushed pecans before being fried to perfection in a skillet. This is also a great meal-prep recipe: you can "bread" and freeze these chops before cooking so they'll be ready to go on that busy night when you don't have time to do anything other than grab a pan and turn on a burner.
Pecan Crusted Pork Chops by Maebells
Parmesan Dijon Crusted Pork Chops
A dijon mustard mixture and a Parmesan cheese coating give these pork chops their spicy flavor and crispy and crusty outer texture. Bake in the oven on a baking sheet for easy clean up.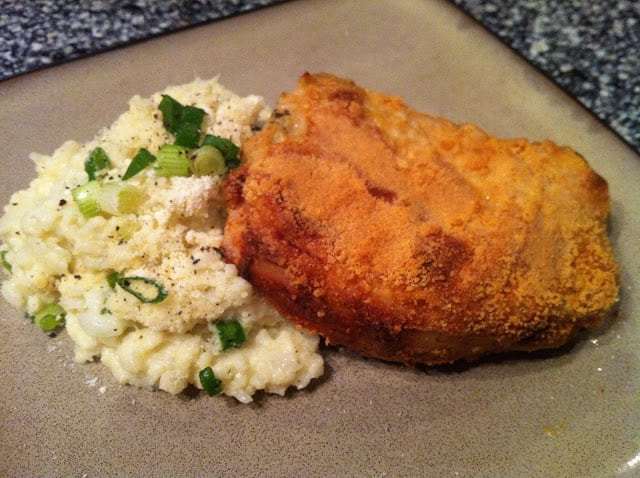 Parmesan Dijon Crusted Pork Chops by Peace Love And Low Carb
Easy Parmesan Crusted Pork Chops
Parmesan, crushed pork rinds, garlic and other seasonings make this Keto pork chop meal an easy go-to recipe. Use thick or thin-cut chops; just adjust your cooking time accordingly.
Easy Parmesan Crusted Boneless Pork Chops by Low Carb Maven
More Keto Pork Chop Recipes
Haven't found the perfect pork chop recipe yet? Don't worry, we still have several more to share! Surely one of these will tempt your palate.
Crispy Air Fryer Pork Chops
If you have 30 minutes and an air fryer handy, you should try these crispy pork chops that the whole family will gobble up! Use either seasoned almond flour or crushed pork rinds for the breading. Bonus: cooking these with an air fryer means hardly any clean-up. Win-win!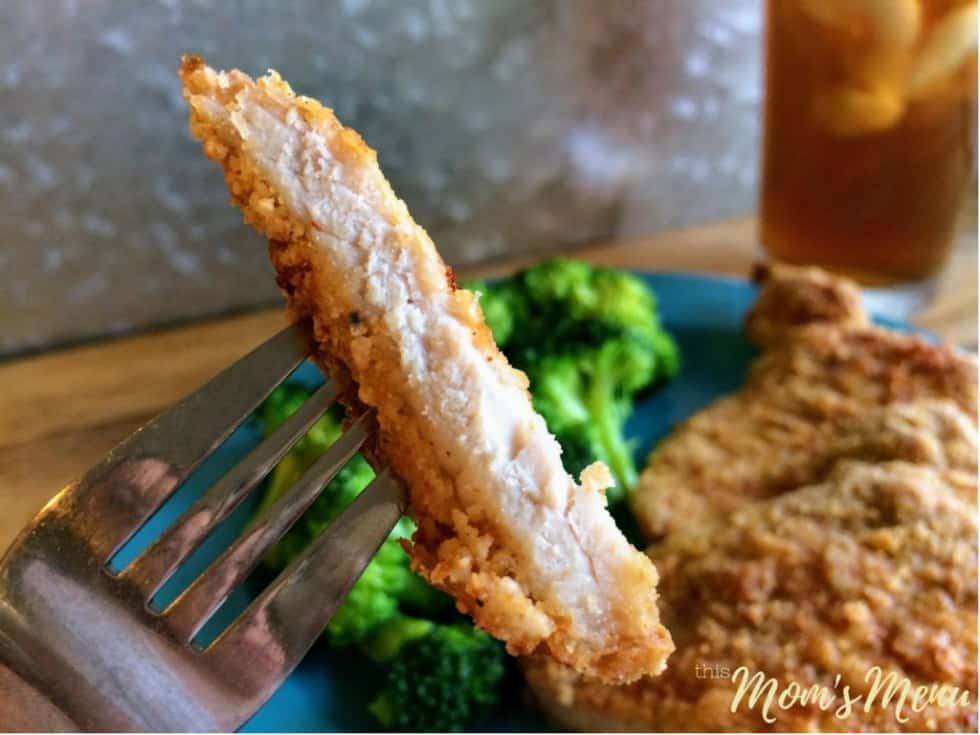 Crispy Air Fryer Pork Chops by This Mom's Menu
Mediterranean Boneless Pork Chops
Sliced boneless pork chops get a quick session in the skillet before they become an accompaniment item to a gorgeous Mediterranean-inspired healthy Keto zoodle salad full of color and flavor.
Mediterranean Boneless Pork Chops by Skinny Taste
Bacon Wrapped Pork Chops
If bacon makes you drool, then you must make these pork chops wrapped in, you guessed it, bacon! These Keto chops come together with just 3 ingredients – pork chops, bacon and black pepper for seasoning. Really, what more could you need? Bake them and serve with a side of riced cauliflower.
Bacon Wrapped Pork Chops by Dancing Through The Rain
Italian Pork Chops
These Keto-worthy chops get seasoned with onions, garlic, tomatoes, Italian herbs and Parmesan cheese for a quick meal made in one pan.Serve over zoodles, if desired. Kid and spouse approved, so make these with confidence!
Italian Pork Chops by Confessions Of A Fit Foodie