One of the things people seem to miss the most on the keto diet is pizza. Who doesn't love the cheesy, meaty deliciousness?
Of course, the real problem is the crust. Yes, it tastes good, but it's obviously not the best choice. All those carbs can completely derail your plan and knock your body out of ketosis. In other words, traditional pizza isn't worth it.
But, no one said you had to go traditional. There are so many ways to make your favorite high-carb recipes into keto-friendly dishes – even pizza.
Best of all, you don't have to use cauliflower. Can I get an amen?
While cauliflower has been used to create everything from mashed potatoes to faux pizza crust, we all know that covering the flavor takes a lot of culinary magic.
If you want something that is not only low-carb but delicious, you're going to love this recipe.
Imagine a crust made mostly of cheese. If that doesn't have your mouth watering, nothing will.
With a combination of shredded zucchini, mozzarella, and parmesan – along with a few extras – this crust is a game changer.
Speaking of games. This would be great for a keto-friendly game day party. No one is going to miss the carbs when you load this cheesy crust down with more cheese and your favorite low-carb toppings.
And, if you're a mom with picky eaters, you're in luck. All kids love pizza. Getting your kids to eat a low-carb meal is much easier when you serve kid-friendly foods. And you better believe this is a popular low-carb meal for the men in your life. Meat and cheese? Yes, please.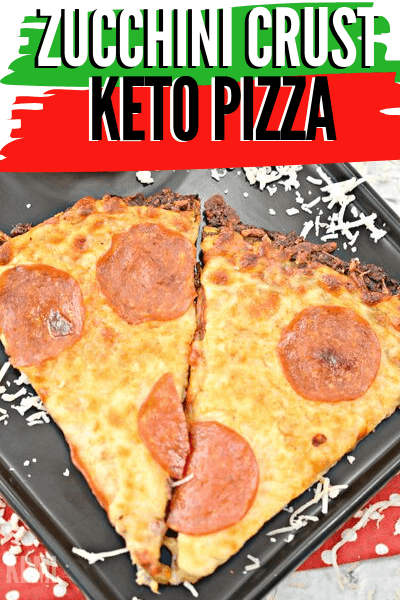 Can you eat pizza on a keto diet?
Yes! There are several ways to take the carbs out of pizza and make the dish keto-friendly. You can use cauliflower, zucchini, almond flour, and cheese along with binder ingredients, such as eggs, to create a delicious crust.
Zucchini is a great option because it is light in flavor and doesn't take away from the flavor of the toppings.
What is the best way to make keto pizza crust?
First of all, you need a binder to hold everything together. Because you don't have the elasticity of gluten in the crust, you'll also need to shape the crust rather than stretching it.
Another important step is to bake the crust and then add the toppings before baking a second time. This gives your crust time to cook thoroughly and have a crisp texture.
Can you eat pizza toppings on low carb diet?
For the most part, many pizza toppings are keto-friendly. You can add low-carb vegetables, olives, cheese, and meat. The toppings aren't really the problem when it comes to pizza.
The crust is where you'll find most of the carbs. If you love meaty pizzas, go for it. Add the beef, chicken, and other meats you enjoy. If you're on a clean keto diet, you may want to stick to vegetable toppings.
Can I use other ingredients for the crust?
Yes. There are many vegetables that have a similar texture to zucchini. Of course, you'll want to make sure the vegetable you choose is also low-carb. You could easily substitute yellow squash in place of zucchini.
You could also use a different cheese as long as it has the same meltability as mozzarella and isn't too soft. Make sure to check the carb count as not all cheeses are low in carbs.
Learn how to make Keto Pork Chops in Creamy Dijon Mustard Sauce
Can I eat this later? What is the proper way to store this pizza for later?
You could make the crust and pat out into your pan and then refrigerate. When you're ready to bake, take the crust out and bake as directed. You may need to increase the bake time to account for the crust being cold.
Once the crust is baked, top and bake a second time. You can store the made pizza in the refrigerator. When you're ready to eat, remove from the refrigerator and preheat the oven. Once preheated, bake until the desired crispiness is achieved.
Recipes you might like:
How to Make Zucchini Crust Keto Pizza
Overall time to make zucchini crust keto pizza is about 40 minutes but knowing what you need to do before starting this recipe is vital.
The prep time for this zucchini crust keto pizza is 10 minutes with a cook time of 30 minutes.
Know that this keto pizza recipe makes 10 servings.
You might like this 20 Minute Keto Pizza Recipe!
What are the ingredients to make Zucchini Crust Keto Pizza?
For this keto-friendly pizza, you are going to need the following ingredients:
Shredded zucchini
Shredded mozzarella cheese
Parmesan cheese grated
Psyllium husk powder
Egg
Italian seasoning
Garlic powder
Salt
pepper
Low carb pizza sauce
Favorite keto-friendly pizza toppings
Now that you have all of your ingredients, it is time to make this keto pizza!
Let's begin!
First, you are going to preheat your oven to 400F.
Using a large mixing bowl, add the zucchini, egg, 1 ½ cups of mozzarella cheese, parmesan cheese, psyllium husk powder, Italian seasoning, garlic powder, salt, and pepper and mix them well using your hands.
To shape the zucchini dough, press the dough into a thin greased pizza pan. The pizza will be at least 12 inches across, but it all depends on the desired dough thickness.
Place the Keto-friendly crust into the oven and bake for 20 minutes.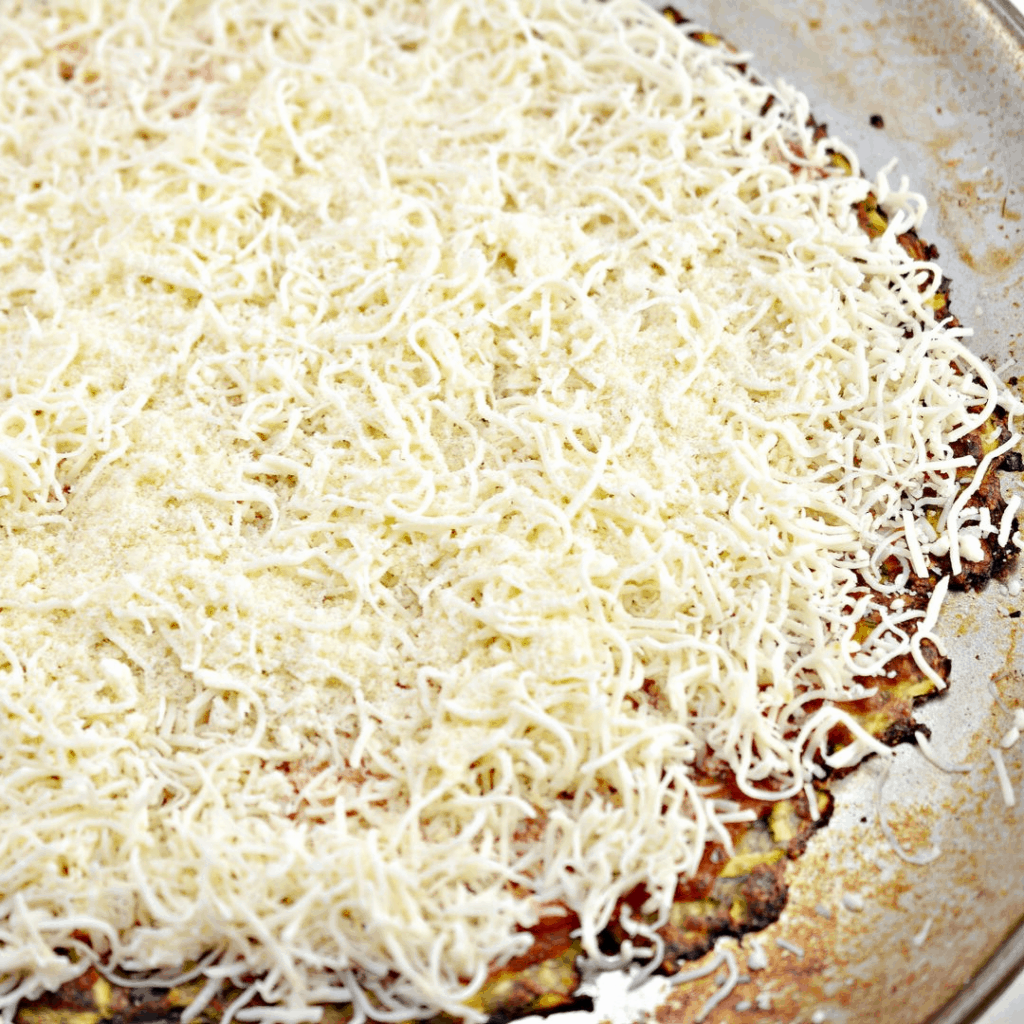 Next, removed the crust from the oven and add the sauce and the rest of the mozzarella cheese and favorite toppings.
Back the pizza for another 2 to 10 minutes until the cheese is melted and toppings are browned.
Remove the Keto pizza from the oven and serve.
Zucchini Crust Keto Pizza is ready!
Zucchini Crust Keto Pizza Recipe
Now that you know all you need to know about this zucchini crust pizza, it is time to print the recipe with the exact measurements.
Click the print button below.
Zucchini Crust Keto Pizza
Ingredients
3 c Shredded zucchini
3 c Shredded mozzarella cheese divided
¼ c Parmesan cheese grated
2 tbsp Psyllium husk powder
1 Egg
1 tsp Italian seasoning
1 tsp Garlic powder
Salt and pepper to taste
⅓ c Low carb pizza sauce
Your favorite keto-friendly pizza toppings
Instructions
Preheat the oven to 400 degrees.
In a large mixing bowl, combine the shredded zucchini, egg, 1 ½ cups of the mozzarella cheese, parmesan cheese, psyllium husk powder, Italian seasoning, garlic powder, as well as salt and pepper to taste. Mix thoroughly with your hands until well combined.
Press the zucchini dough into a flat, thin pizza shape on a greased pan. This will make a pizza at least 12 inches across, depending on how thin or thick you would like your crust to be.
Bake the crust for 20 minutes.
Remove from the oven, and add a low carb pizza sauce, the other 1 ½ cups of mozzarella cheese as well as your favorite toppings.
Bake for another 5-10 minutes until the top is browned and the cheese is melted.
Remove the pizza from the oven, cut into 10 slices, and serve immediately.
Nutrition Information:
Yield:

10
Serving Size:

1
Amount Per Serving:
Calories:

146
Total Fat:

8g
Saturated Fat:

4g
Trans Fat:

0g
Unsaturated Fat:

3g
Cholesterol:

39mg
Sodium:

348mg
Carbohydrates:

11g
Fiber:

2g
Sugar:

2g
Protein:

10g
This data was provided and calculated by Nutritionix on 9/19/2019