Keto is a popular low carb diet that aids weight loss and the treatment of certain health conditions.
The main focus of Keto is low-carbing, by getting most calories from leafy greens, fat and protein, instead of strachy carbs.
There are many benefits to starting Keto, however, there are some downsides as well- one of them being Keto breath. The focus of this article is on Keto breath, what it is, and natural remedies to help reduce it and get rid of it.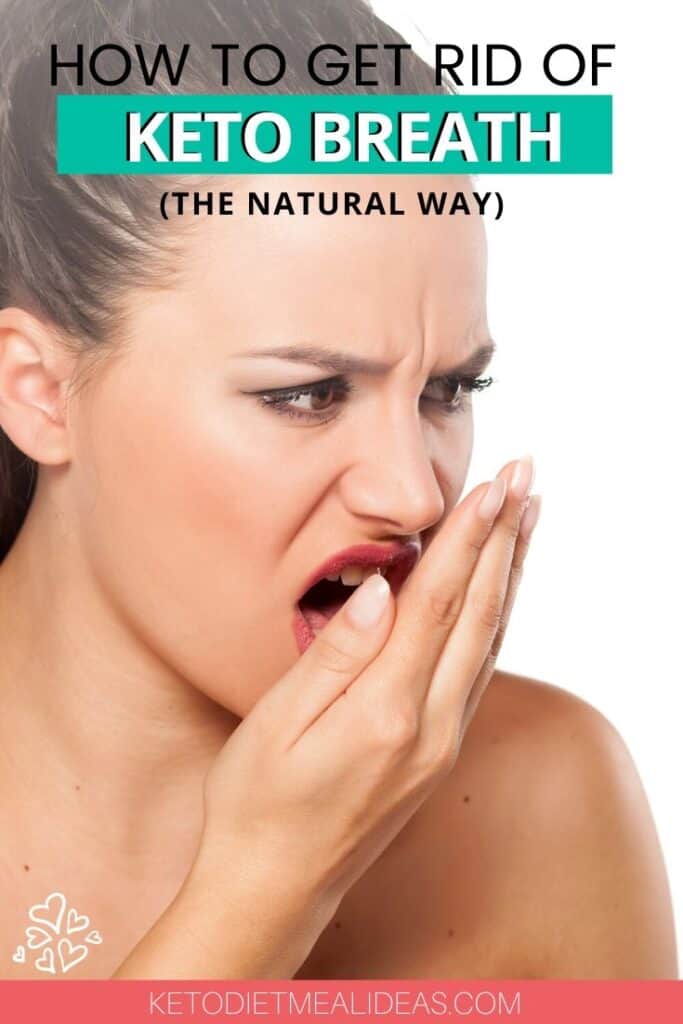 What is Keto breath?
When you start eating on a strictly low carb diet, the first thing that you'll begin to notice is that your breath will begin to have a unique smell- kind of fruity, or even sometimes like a nail polish type of smell. This is due to how the body reacts on a low carb diet.
Your body's main source of energy is glucose, which is derived from carbohydrates. When you eat low carb, your body struggles to find its energy source- so it uses its backup, fat.
Now, the problem with this is that ketones contain acetone, which gives off the smell. So, when your body burns the fat for energy, the substance that's produced is Ketones.
This state is otherwise known as Ketosis. The main way the body burns Ketones is through urine and exhalation- and due to the acetone content, we have the not-so-nice fruity or nail polish scent.
The smell can sometimes be strong enough that you smell it yourself when you breathe! It may sound bad, but that's why you're here. To get a solution- not give up!
How long does Keto breath last?
The good news is, Keto breath doesn't last long. As your body adjusts from being in a state of Ketosis, to becoming adapted to Keto- the Keto breath eventually goes away. When your body adapts to Keto, the result is less Ketones, as your body begins to use fatty acids as fuel for your muscles and Ketones as fuel for the brain.
By having less Ketones in your blood, you'll have less Ketones in your breath. Usually, Keto breath will last up to a month, but can go away as early as a week.
Over time you'll learn to balance your macros correctly, you'll start increasing your fat intake and reducing your protein intake- which also helps get rid of Keto breath and other issues that arise from having too much protein in ones diet.
How to get rid of Keto breath?
Keto is fantastic, losing body fat thanks to the low carb diet, however, Keto breath is definitely not. If you're having a bad experience with Keto breath, continue reading.
Here are some natural remedies to help you reduce the Keto breath while your body gets used to having a low-carb diet :
Increase your intake of water
You need to stay hydrated and increase your intake of water, so drink water throughout the day. The reason for this is to increase your urination, as the ketones and acetone from your system gets flushed out by your body through urination. The other upside when you increase your intake of water is possible help with your weight loss goals.
Decrease your protein intake
In a low-carb diet, eating protein is very important. However, eating too much protein can result in bad Keto breath. When protein gets broken down by your body, ammonia is produced- which is a byproduct.
Ammonia also causes a strong odor on your breath as well. So, decrease your protein intake and increase your intake of healthy fats- this way, your breath can improve without you having to go off your diet.
Good oral hygiene
Even when you brush your teeth twice a day, floss daily and use mouthwash- this routine may not always eliminate the smell of Keto breath. However, by having a  good oral hygiene routine- you can reduce the mouth odor.
If you don't brush, floss, or use mouthwash regularly, bacteria gets stuck between your teeth and accumulates in your mouth. Bacteria is the trigger of bad breath, lack of dental hygiene and the current culprit- Keto breath!
Mask the odor using gum and mints
While your body is getting used to the low-carb diet, chew sugar-free gum and chew on sugar-free mints.
However, some gum and mints contain small amounts of carbohydrates- if you chew or suck on several pieces a day, your carbohydrate intake could increase and take you out of Ketosis. So, be mindful of that when choosing a brand of gum and mints.
Increase your carbohydrate intake
Another way to eliminate Keto breath is to slightly increase your carbohydrate intake. However, if you want to stay in Ketosis, only increase your daily carbohydrate intake slightly.
For example, if you usually consume 15 grams of carbohydrates, up that to 20 grams of carbohydrates and see if your breath improves. However, use a ketone breath analyzer and monitor your ketone level so that you can make sure that you're still in Ketosis even after the slight increase.
Related posts:
It's all about patience
Remember your commitment- doing the low-carb diet to lose weight. So don't lose sight of your long-term goal just because you can't get rid of Keto breath. Just be patient and give your body a chance to get used to the diet, and surely after a few weeks the bad Keto breath will improve.
Keto breath is a common issue among Keto dieters, the good thing about it though is that you'll know that you're in a state of Ketosis. The other good thing is that it doesn't last long and there are natural remedies for Keto breath while your body adapts to Keto.
If your Keto breath has a rotten egg smell or urine smell, it's a sign that you're consuming too much protein or are suffering from mouth dryness. Both of these issues are common among Keto beginners.
Follow or Natural Remedies to help you reduce and treat the Keto breath, just remember one thing- patience! And remember, Keto breath is a for now thing, not a forever thing.
Once you cross that barrier, Keto breath will be long gone and forgotten. One thing is for sure, you'll definitely smell and feel better than before you began the Keto diet.