These Keto Lemon Cookies are a delicious, flavorful treat that won't sabotage your keto diet efforts. With some simple, keto-friendly substitutes, you can easily whip up a batch of yummy cookies without an ounce of guilt.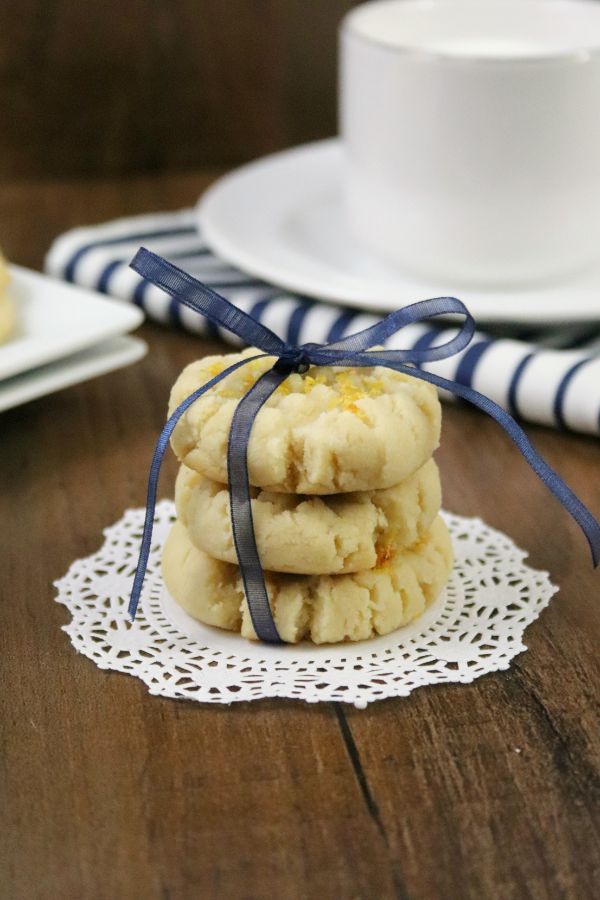 For many people, one of the hardest things about following a keto diet is giving up sweets. Because desserts are typically laden with sweeteners and processed grains, they simply aren't allowed on a keto diet.
Keto-Friendly Substitutions for Baking
Thankfully, there are some great substitutes that make it possible for us to create keto-friendly desserts at home.
Sweeteners
In order to stay in ketosis, we need to limit sugars and carbs so that our body burns fat instead. That means typical sweeteners like sugar, honey, and agave are out.
Fortunately, there are a few other sweeteners that our bodies don't metabolize like other sweeteners, so we can get away with using them without raising our blood sugar and insulin levels.
These keto-friendly sweeteners are:
Stevia
Sucralose
Erythritol
Xylitol
Monk fruit sweetener
Yacon syrup
For baking, stevia and monk fruit sweetener are great because they stand up well to heat and don't change the texture of the dish as much as some of the other options. Also, they're actually sweeter than sugar so you use less of them in baking (meaning you can make dessert more often before running out!).
Flour
Most baking flour is processed from grains and full of carbs. However, there are several flours that aren't grains and are great low carb, keto friendly alternatives.
Some great keto-friendly flours for baking are:
Almond flour
Coconut flour
Flax meal
Psyllium husks
Coconut flour works great in cakes, but for cookies we prefer almond flour. It lends a really nice, dense texture that makes each bite rewarding.
How to Make Keto Lemon Cookies
Once you know which substitutions to make, these really aren't that different from making any other cookies. We'll break it down step-by-step though for the skeptics.
Ingredients Needed
1/4 cup softened butter
1/2 cup keto friendly granulated sweetener
1 egg white
2 tablespoons cream cheese, softened
1 teaspoon pure vanilla extract
1 teaspoon lemon extract
3 cups almond flour
1 teaspoon baking soda
1/4 teaspoon salt
Zest of one lemon
Step 1: Combine Wet Ingredients
In a medium bowl, combine the butter, sweetener, and egg whites. Beat on high for one to two minutes.
Next, add the cream cheese and both the vanilla and lemon extracts. Beat for another minute or two until well combined.
Step 2: Add Dry Ingredients
Add the almond flour, baking soda, and salt to the bowl.
Gently fold the dry ingredients into the butter/cream cheese mixture until a soft dough forms.
Step 3: Chill Dough
The dough is much easier to work with when it's cold so place the bowl in the refrigerator for 10-15 minutes to let it firm up.
While the dough sets, preheat the oven to 350°F.
Step 4: Form Cookies
Now it's time to get the cookies ready to bake! Remove the dough from the refrigerator and use an ice cream scoop to form balls to place on your baking sheet.
You should get about 15 cookies out of the batter if you're using a standard scoop.
Use a fork or the bottom of a glass to flatten the balls.
Sprinkle some lemon zest on each of the cookies for some added color and lemon flavor.
Step 5: Bake
Place the cookie sheet in the preheated oven and bake for 8 to 10 minutes. Transfer cookies to a wire rack to cool.
Once the cookies have cooled completely, store them in an airtight container to keep them fresh. Unless, of course, you eat them all in one sitting which you may be tempted to do because they're so yummy!
Keto Lemon Cookies
Ingredients
1/4 cup softened butter
1/2 cup keto friendly granulated sweetener
1 egg white
2 tablespoons cream cheese, softened
1 teaspoon pure vanilla extract
1 teaspoon lemon extract
3 cups almond flour
1 teaspoon baking soda
1/4 teaspoon salt
Zest of one lemon
Instructions
Preheat oven to 350
Add butter, sweetener, and egg white to a medium
size mixing bowl or stand mixer. cream about 1 minute.
Add in the cream cheese, vanilla and lemon extract
and mix well.  
Fold dry ingredients into the wet ingredients
until mixture forms a dough like consistency. Place in fridge for 10 minutes.
Using an ice cream scoop, place balls of dough on
cookie sheet. Flatten the cookies with a fork or the bottom of a glass.
Bake for 8-10 minutes or until the bottoms are just
browned.
Store in an airtight container.


Nutrition Information:
Yield:

15
Serving Size:

1
Amount Per Serving:
Calories:

171
Total Fat:

15g
Saturated Fat:

3g
Trans Fat:

0g
Unsaturated Fat:

11g
Cholesterol:

10mg
Sodium:

153mg
Carbohydrates:

6g
Fiber:

3g
Sugar:

2g
Protein:

5g
Nutrition information isn't always accurate. Consult a professional nutritionist.
Frequently Asked Questions
Can I use lemon juice instead of lemon extract in cookies?
No. You'll get a very different result if you do. Lemon extract has a much stronger flavor and is less acidic than lemon juice. You'd need to use far more lemon juice to get as much lemon flavor, which would create a moister batter and the cookies would also taste different.
What can be used in place of lemon extract?
If you don't have lemon extract on hand and don't want to commit to buying an entire bottle just to try this recipe, you can use lemon zest instead. You'll get a similar flavor without changing the consistency of the cookies. You'll need two teaspoons of lemon zest to replace the one teaspoon of lemon extract called for in the recipe.
Is lemon zest the same as lemon peel?
Not quite, though lemon zest does come from lemon peel. The zest is the bright yellow part of the peel, whereas the peel includes the entire outer skin of a lemon, including the dense white part of the rind. That white part is pretty bitter so take care when zesting to scrape off the outermost colorful layer for the best flavor (and color).
Can you freeze lemon cookies?
You can! Lemon cookies will keep for up to a month in the freezer if packaged properly.
Use wax paper in between layers and store in a freezer-safe airtight container.
Can you freeze lemon cookie dough?
Absolutely! We recommend scooping the dough into balls first and placing them in the freezer on a baking sheet until frozen. Then, transfer the frozen dough balls to a freezer-safe airtight container.
When you're ready to bake, simply transfer the dough balls to a baking sheet and bake at 350°F as directed. You may need to bake them for an additional one to two minutes.
Not ready to bake yet? Pin the recipe so you can find it later!